Local resident Gordon H. Boss served as the Maccan "Bore Keeper" for over 60 years.
For decades, Gordon "hosted" the bore each day, generously sharing his encyclopedic knowledge of the tidal bore with thousands of tourists from all around the world. He also created and distributed a detailed schedule of bore times, carefully prepared on his 1940s Remington typewriter.
Gordon passed away on July 28, 2019 at his beloved home in Maccan, overlooking the Maccan River. We're proud and honoured to maintain this page in his memory.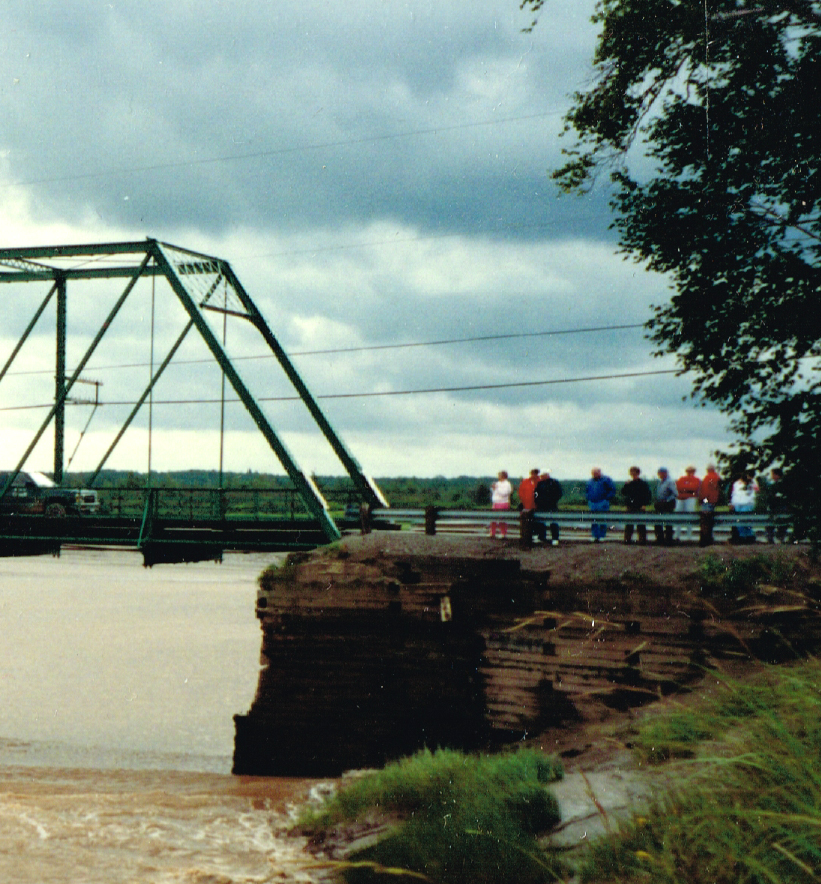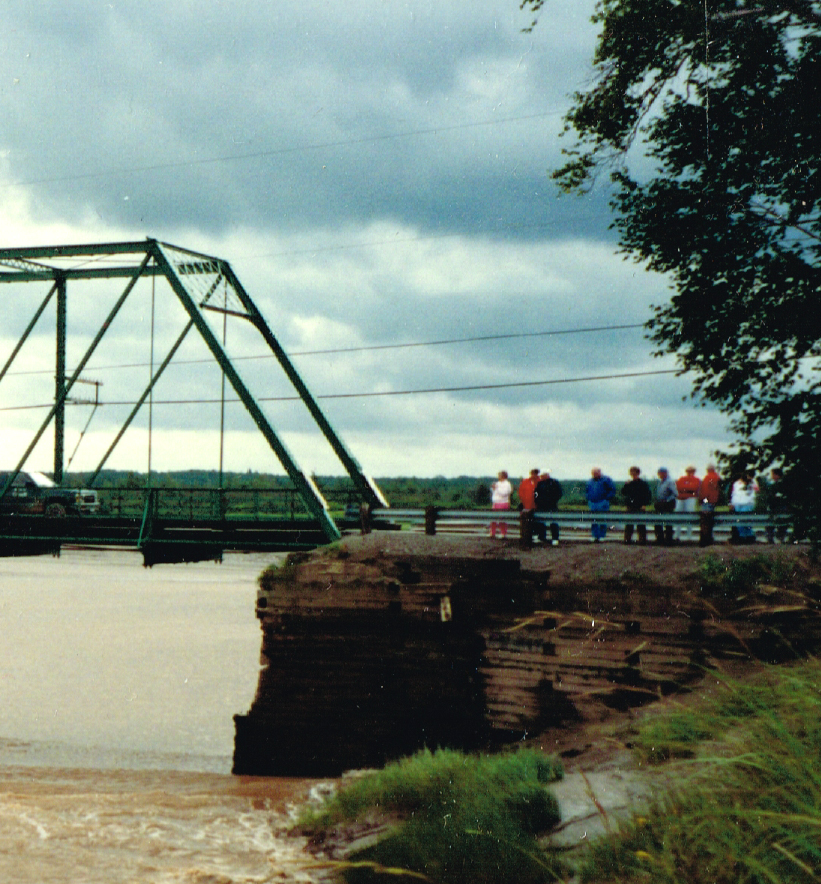 ---
Learn more about Gordon Boss
Gordon H. Boss, age 91, passed away on July 28, 2019 at his beloved home in Maccan, Nova Scotia. Born to the late Irvin and Elizabeth Boss in 1928, Gordon lived his entire 91 years within sight of the Maccan River. He was the longtime owner of the Maccan Garage, selling both fuel and Studebaker cars, and he took great joy from serving his staff, his customers, and his community.

After selling the garage in 1974, Gordon embraced his other passion — serving as the Maccan River's unofficial "Bore Keeper". He held an encyclopedic knowledge of the river and its iconic tidal bore, and for over 60 years he created and distributed a detailed schedule of bore times, carefully prepared on his 1940s Remington typewriter. He personally hosted thousands of tourists and locals at the bore, first at the old Maccan Bridge, and then at the Maccan Tidal Wetlands Park. For his work, Gordon earned multiple official commendations and media profiles, and made friends from all over the world.

Continued at Inmemoriam.ca
CTV NEWS AT 5: IN OUR BACKYARD – GORDON BOSS
CTV's Maria Panopalis visits Maccan, Nova Scotia to talk to a Maritimer who really knows his tides. Check out this Bay of Fundy focused edition of "In Our Backyard".

Continued at Facebook: CTV News at 5
SALTWIRE: Nova Scotia bore keeper's legacy kept alive by family, friends
At the Maccan Wetlands Park, people gather on the bank with their eyes focused on the muddy river bend. They are anticipating the tidal bore, a wall of water initiated by the Bay of Fundy that fills the Maccan River twice a day.

This year, someone is missing from the tidal bore viewing experience. Gordon Boss, the social "bore keeper" of Maccan, is no longer around to share his encyclopedic knowledge. Boss, who passed away at the age of 91 last summer, hosted the bore and predicted viewing times for over 60 years.

Now, a group is carrying on his legacy by promoting the park and sharing the viewing times online.

Continued at Saltwire
CUMBERLAND NEWS NOW: CNTA awards have three Cumberland County recipients
Amherst and Cumberland County were well represented when the Central Nova Tourist Association presented its 2013 awards at the Joggins Fossil Centre on Friday… Gordon H. Boss was presented the Ambassador Award.

Boss of Maccan almost single-handedly keeps people up to date with the tidal bore times of the Maccan River and because of the proximity of his home he's been known to join visitors at the Maccan Tidal View Wetland Park to share his knowledge and explain the phenomenon.

Continued at Cumberland News Now
VISITING NOVA SCOTIA: MACCAN TIDAL WETLANDS PARK
Nova Scotia has many natural attractions to make a visitor's trip more interesting. One of these is a phenomenon seen in many rivers that empty into the Bay of Fundy, home of the highest, most dramatic tides in the world. When the tide comes in, the surging water pushes water into the rivers, against the natural river flow. The fresh water flowing out of the Maccan river holds back the Fundy tide briefly but the rising tidal water reverses the river's flow.

The leading edge of this surge forms a wave that can be inches to several feet in height. This reversal combined with narrowing of the river causes the wall of water or tidal bore to rush up the river ahead of the incoming tide. After the water comes crashing by, emptied rivers fill quickly. The Maccan Tidal Wetlands Park is a little park along the Maccan River where you can safely view the tidal bore.

This tidal bore viewing area has an extra special experience: Gordon Boss.

Continued at Visiting Nova Scotia
Gordon Boss had a keen interest in the preservation of Maccan's history, from a book launch to the beauty of the Tidal Bore… RIP.

Continued at Facebook: Vintage Maccan